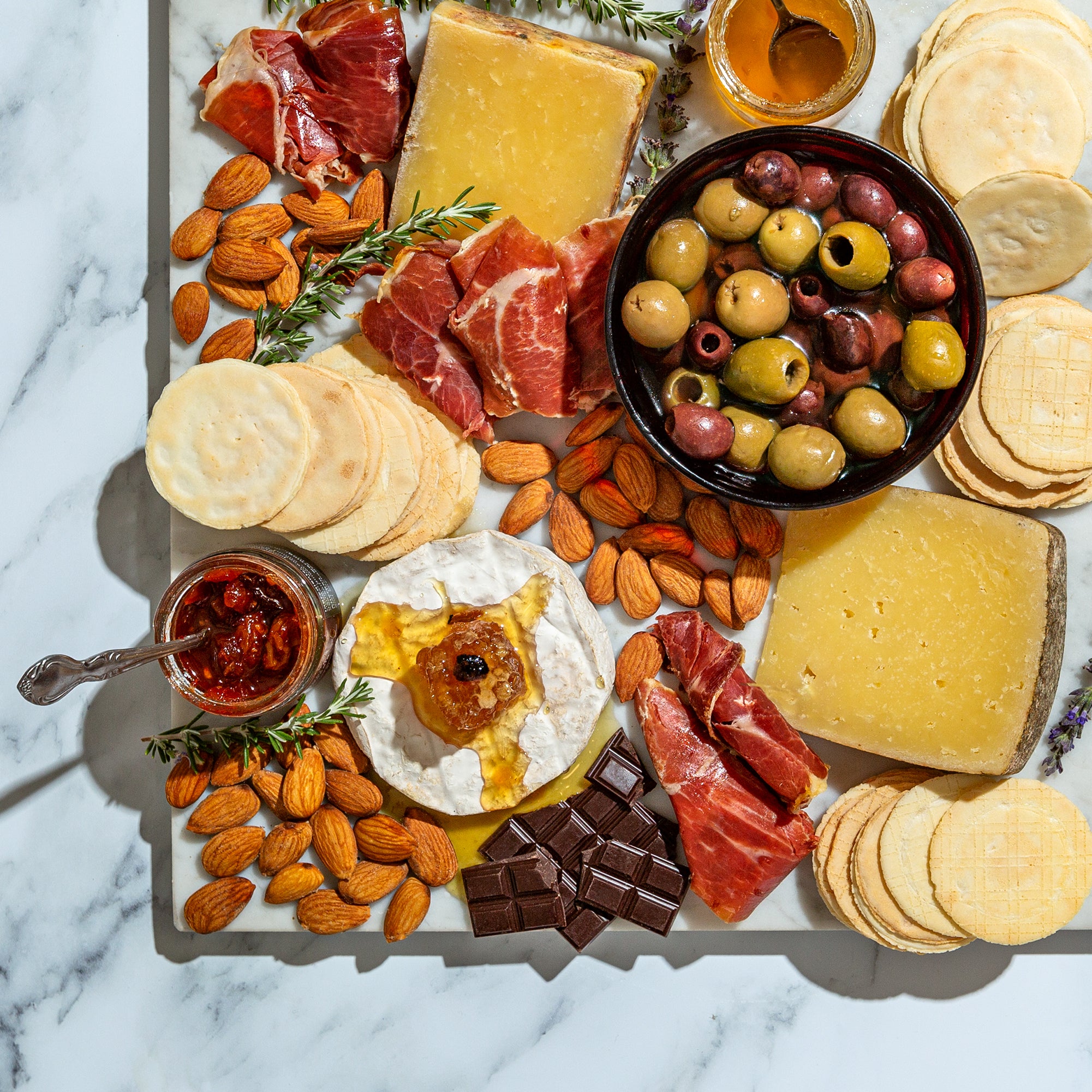 The Full Artisan Cheese Tasting Gift Package
star star star star star_half
4.8 Stars out of 84 reviews
Hand-tied with a bronze satin ribbon, these blue gift boxes are filled to the brim with artisan cheese and accompaniments.
Order by Thursday to ship Monday every week via Express.
The Full Artisan Cheese Tasting Gift Package
What's Included
Hand-tied with a gold satin ribbon, these blue gift boxes are filled to the brim with artisan cheese and accompaniments.

Customize your box to the vegetarian, gluten-free, and nut-free person in your life, by selecting the checkboxes in the allergy section. If they are vegetarian, we will replace the meats with one additional cheese and cornichons. If they are nut-free, we will add an additional chocolate bar flavor to their kit.

Each gift box includes:

• Award-Winning Cow's Milk Brie, 5oz
• Award-Winning Cow's Milk Natural Rind, 6oz
• Award-Winning Cow's Milk Clothbound Cheddar, 6oz
• Milène Jardine Chocolatier 70% Dark Chocolate, 3oz
• Le Bon Magot Jam Tomato and White Sultana Chutney, 2oz
• Tennessee Black Truffle Honeycomb, 3oz
• Dequmana Mixed Olives, 12oz
• Ziba Heirloom Almonds, 1.06oz
• Creminelli Prosciutto, Sliced, 3oz
• Olina's Crackers, 3.5 oz

Award-Winning Cow's Milk Brie, 5oz

Highlighting the best of American artisan brie-styles, we'll select what is seasonally available and tasting its best. You'll be receiving a pasteurized, bloomy-rind cow milk cheese with notes of white button mushrooms, grass-fed butter, crème fraiche, cauliflower, and baked bread. This cheese category is a crowd-pleaser and pairs wonderfully with Sauvignon Blanc, Chardonnay, Chenin Blanc, Riesling, and Sparkling Brut.

Award-Winning Cow's Milk Natural Rind, 6oz

One of our favorite table cheeses, a natural rind style has an edible, ruddy rind with notes of buttermilk, brown butter, cured meat, nuts, and brown mushroom. Semi-firm and aged a minimum of two months, we'll hand select what is seasonally available and tasting its best. Pairs beautifully with a Chardonnay or Pinot Noir.

Award-Winning Cow's Milk Clothbound Cheddar, 6oz

Clothbound cheddars have become a distinguished American cheese category. Unlike their block cheddar counterparts that are sealed in wax or plastic, the milled curd is carefully wrapped in cheesecloth and then brushed with butter. Clothbound cheddars boasts flavors of bright pineapple and lemon curd, roasted nuts, caramel, and olives with a minerality closer to the rind. We'll select the best tasting wheel we have for this gift set. Pair with a light to medium-bodied red with low tannins, such as Pinot Noir, Merlot, Cabernet Franc or Syrah.

Milène Jardine 70% Dark Chocolate

New York Times featured chocolatier Milène Jardine makes a dark chocolate bar rich in cocoa butter resulting a smooth, full-bodied chocolate that pairs excellently with cheese. Made with fruity Peruvian beans and toasty notes from Ecuador's Cacao Arriba the blend leaves you with a balanced taste of dried fruit and sweet spices. Pair with a delicate Bordeaux like Chateau Viaud-Laland, Lalande de Pomerol (2014) and the Sharon Creek Brie. The rich and creamy texture of the cheese paired with the dark chocolate, and long finish of the Bordeaux make an indulgent combination.

Le Bon Magot Tomato and White Sultana Chutney

With the sweet fruitiness of tomato married to piquant Kashmiri chilies in this versatile chattni, this chutney is perfect for pairing with charcuterie and cheeses. Le Bon Magot's culinary flavors are inspired by their heritage and experiences in Africa, Middle East and South Asia. Their preserves are developed from heirloom recipes using natural ingredients, high-quality and seasonal produce, custom-blended aromatics and no preservatives.

Regalis Tennessee Black Truffle Honeycomb

This completely edible honeycomb, comprised of a deep golden hued star-thistle honey from Georgia, is infused with fresh black Tennessee truffles from Chuckey, Tennessee. Perfect for any cheese board, the honeycomb pairs wonderfully with your favorite salty cheese.

Dequmana Mixed Olives

The Mixed Olives with Herbs is a perfect combination of hojiblanca, gordal, cuquillo, and arbequina olives, herbs and natural red pepper following a traditional recipe used in Andalucian homes each year upon the arrival of the harvest. A perfect pairing for washed rinds and savory aged cheddars.

Soft Shell Shakhurbai Almonds

An ancient heirloom from Afghanistan, Shakhurbai almonds are one of the world's forgotten superfoods. Almonds in the Shakhurbai family have a sweet, nutty flavor. Sorted by hand by Ziba in Kabul, they are higher in protein than their California counterparts. The Shakhurbai almond is loaded with antioxidants and nutrients, Vitamin E, and Magnesium. Ziba dry roasts (without oil) and dusts them with Afghan Badakhshan salt, making them the perfect healthy snack.

Creminelli Prosciutto, Sliced

Original, whole muscle cut, paper thin slices contain just two ingredients: meat and sea salt. This domestic, Parma-style Prosciutto is aged bone-in until it reaches the perfect balance of salt and moisture. It comes ready for you to pair with your favorite cheese and wine. Great addition for charcuterie boards, salads, sandwiches and snacks.

Olina's Crackers

These deliciously thin crackers are made in Australia, from wheat flower and a touch of umami-rich cheese, making them an excellent match for your at-home cheese tasting experience.
Shipping
• Your shipping charge is based on your zip code location.
• We ship every Monday. To be included in the following week's shipment, please place order by the Thursday prior.
• Please visit our shipping policy page for additional questions.
About the Producer
A variety of specialty food products curated by Cheese Grotto.
Serving Suggestions
After you've assembled your board, pour one of these pairings to enjoy with your cheese.

Wine: Try crisp white wines like Sauvignon Blanc, Grüner Veltliner, Gewürztraminer, and dry Riesling with these cheeses. Medium-bodied reds like Pinot Noir, Cabernet Franc, Barbera, and Merlot are other versatile options. Dry rosé and dry sparkling wines work well too!

Beer: Sip food-friendly beers like amber ales, red ales, pale ales, IPAs, biere de garde, and saisons. Lambics and fruit sours on the drier side also work well with a variety of cheeses.

Cocktails: Gin cocktails like a French 75 or gin and tonic tend to play well with a variety of cheeses from bloomies to blues. Peated Scotch complements lush bloomies and cheddars. When in doubt, remember that martinis go with just about everything.
Ingredients
Ingredients are variable as we occasionally we substitute one artisan product for another, or one artisan cheese for another, depending on seasonality and availability. Please mark your allergies in the checkboxes provided above the Add to Cart button.
The Cheese Grotto is fantastic - it keeps my blocks of cheese fresher for longer periods of time, unwrapped in all their glory.
It really does extend the life of cheese over time. Aside from the functionality, the Cheese Grotto looks great and is easy to maintain.
The Cheese Grotto is a must have for anyone who loves cheese. Looks stunning and keeps all of your cheeses in perfect condition.
Good Subscription Agency