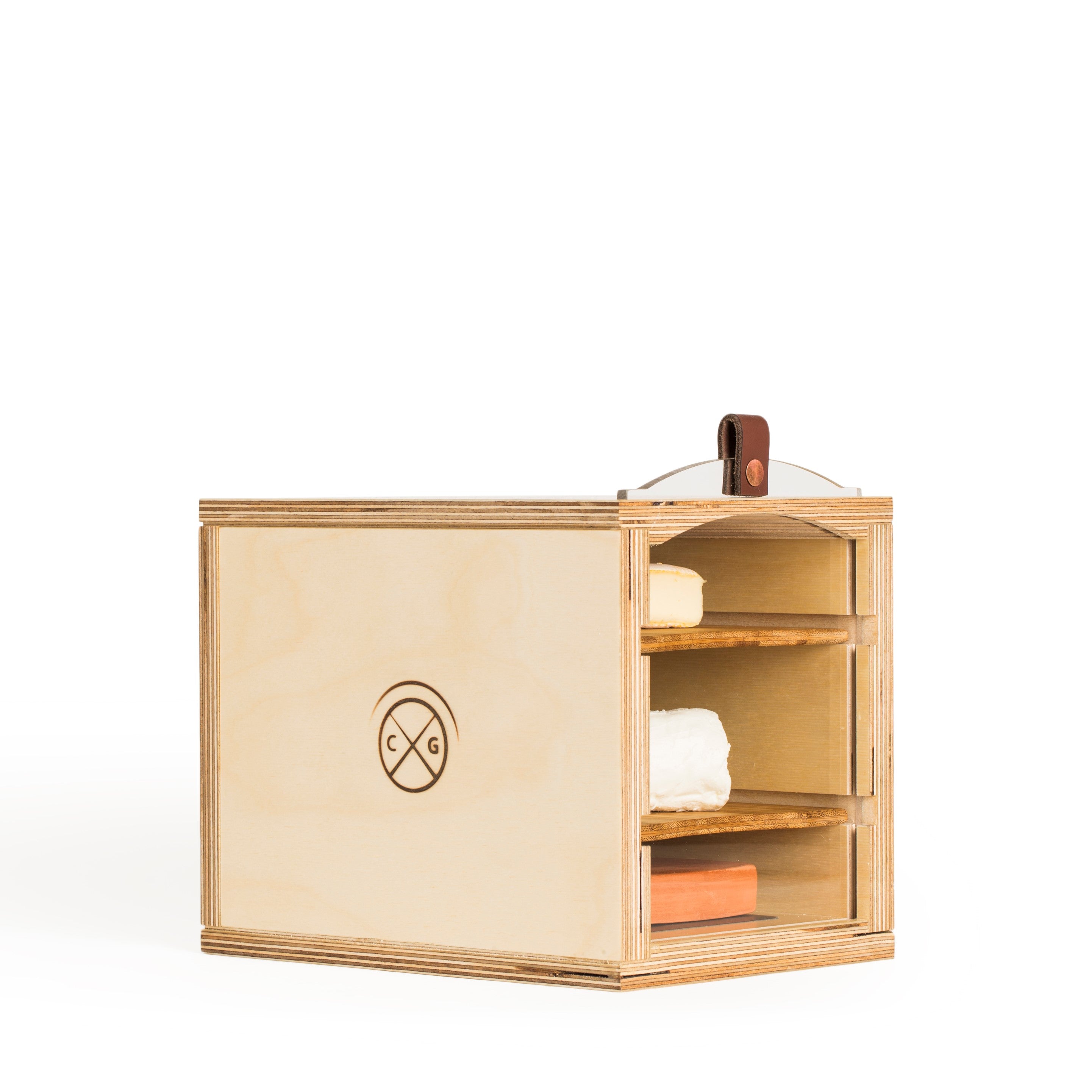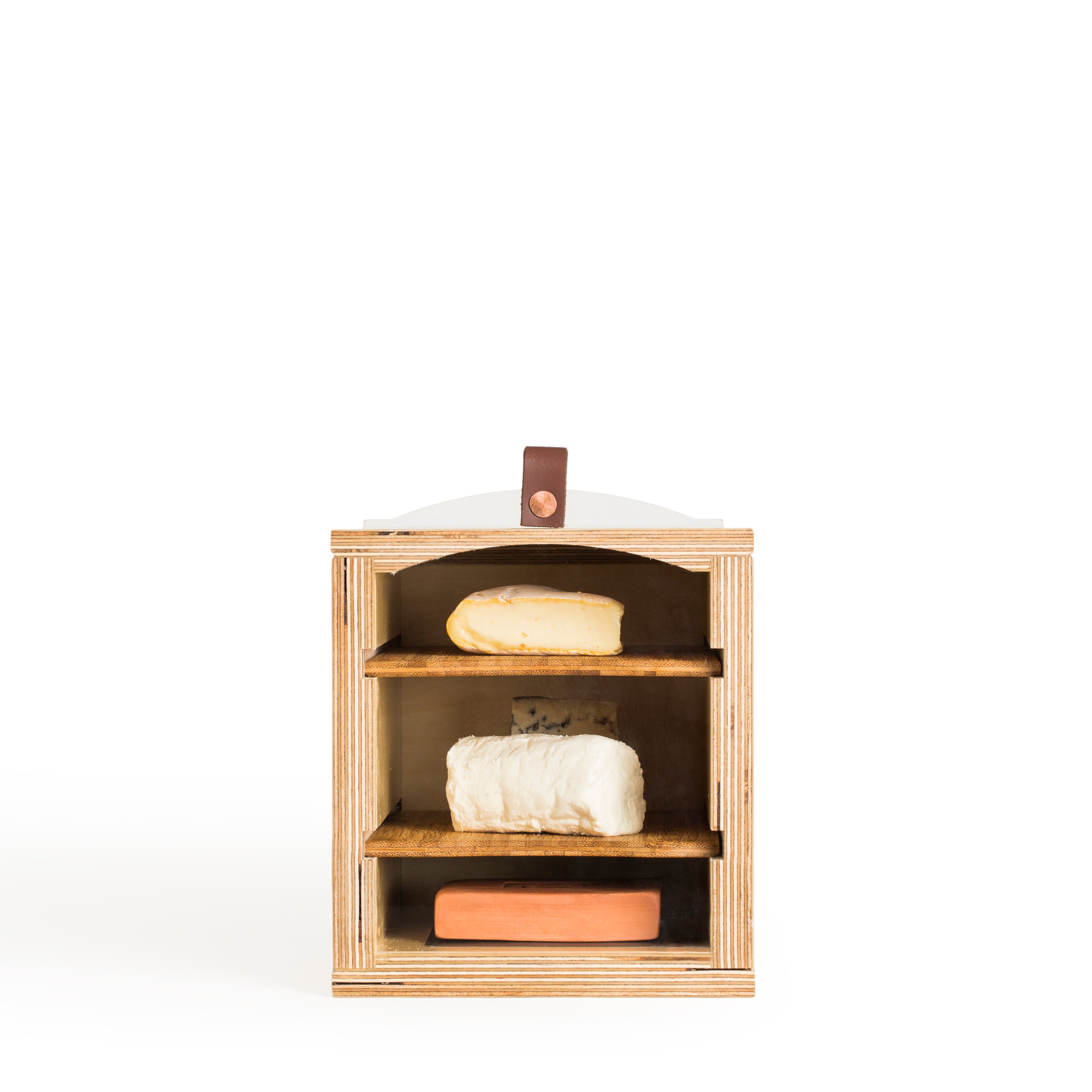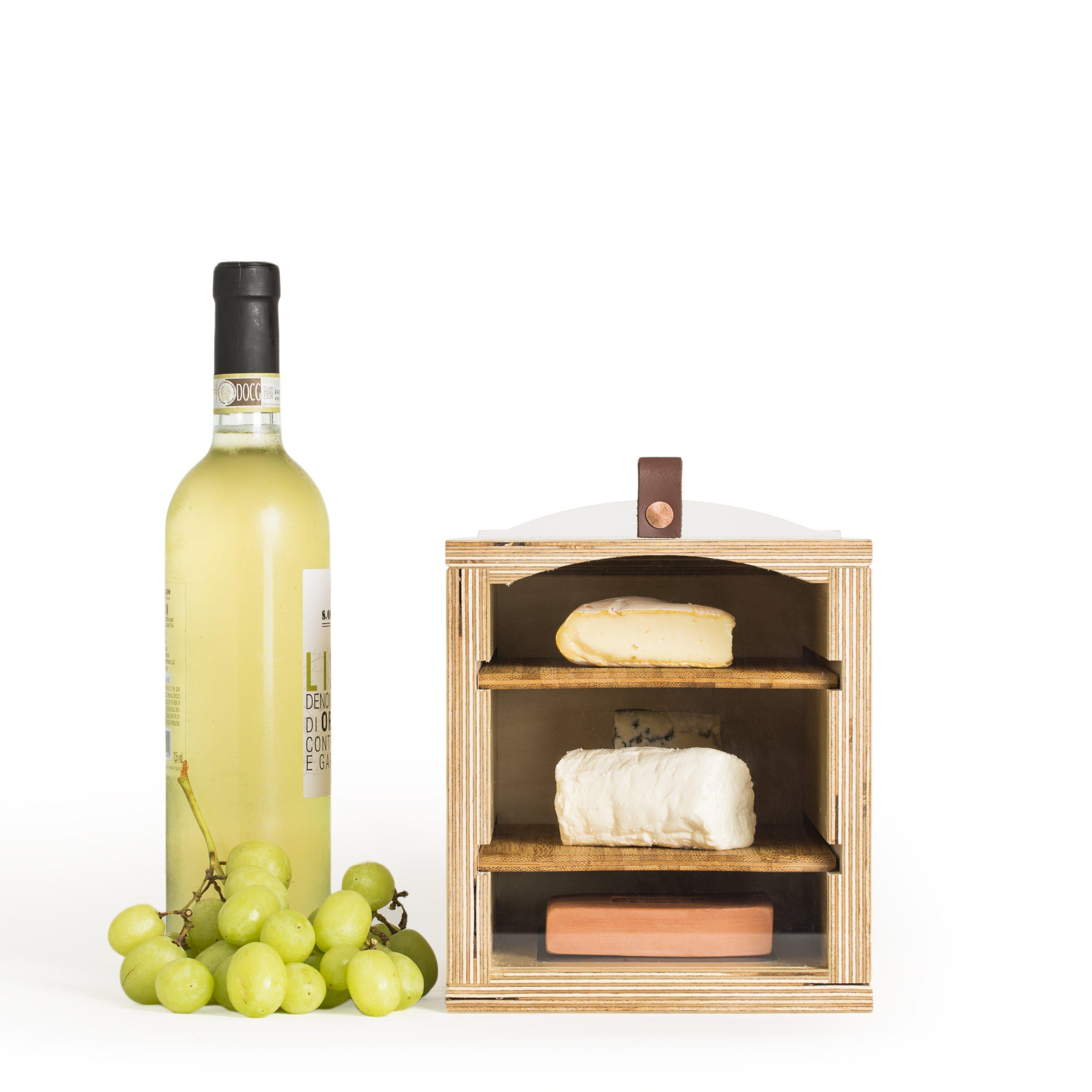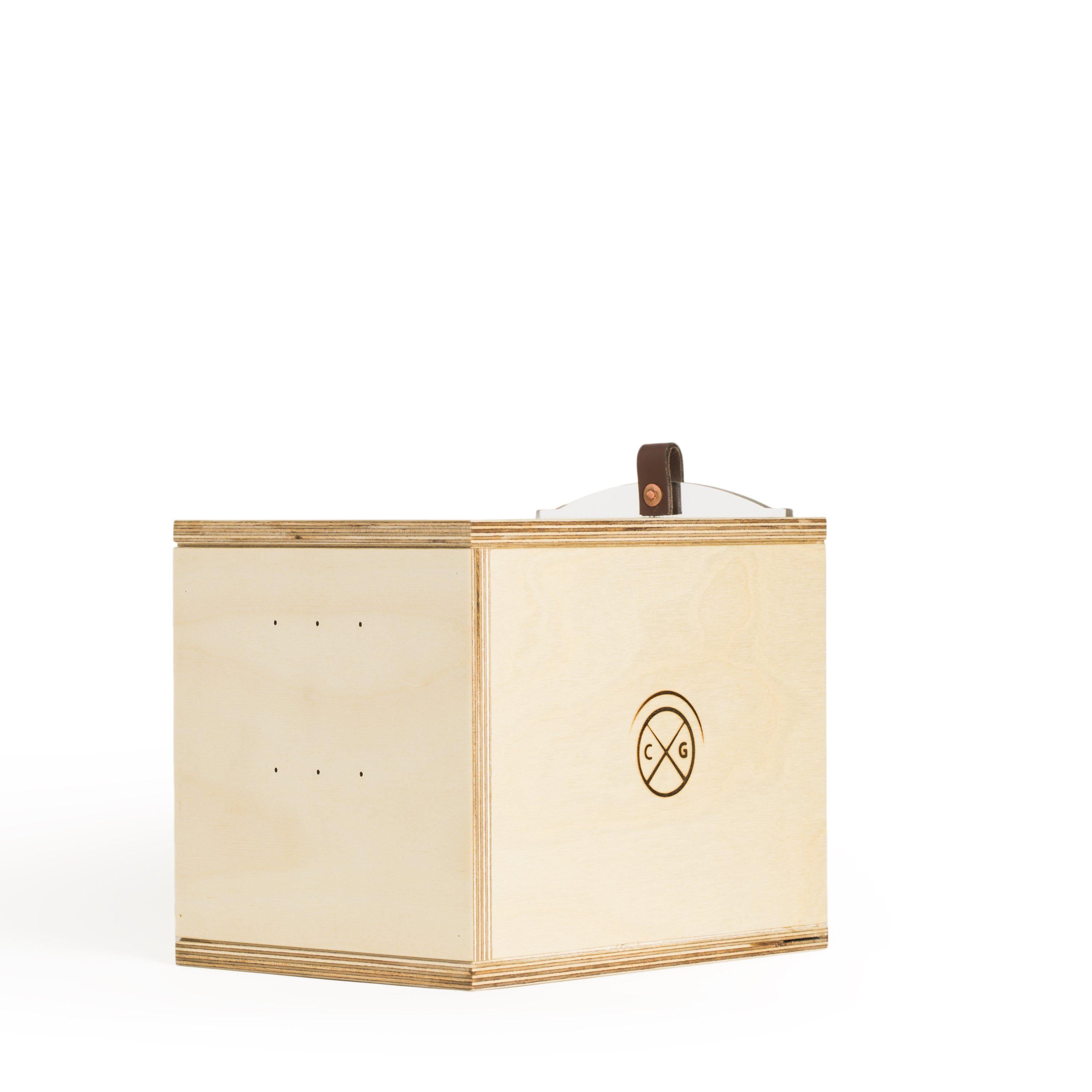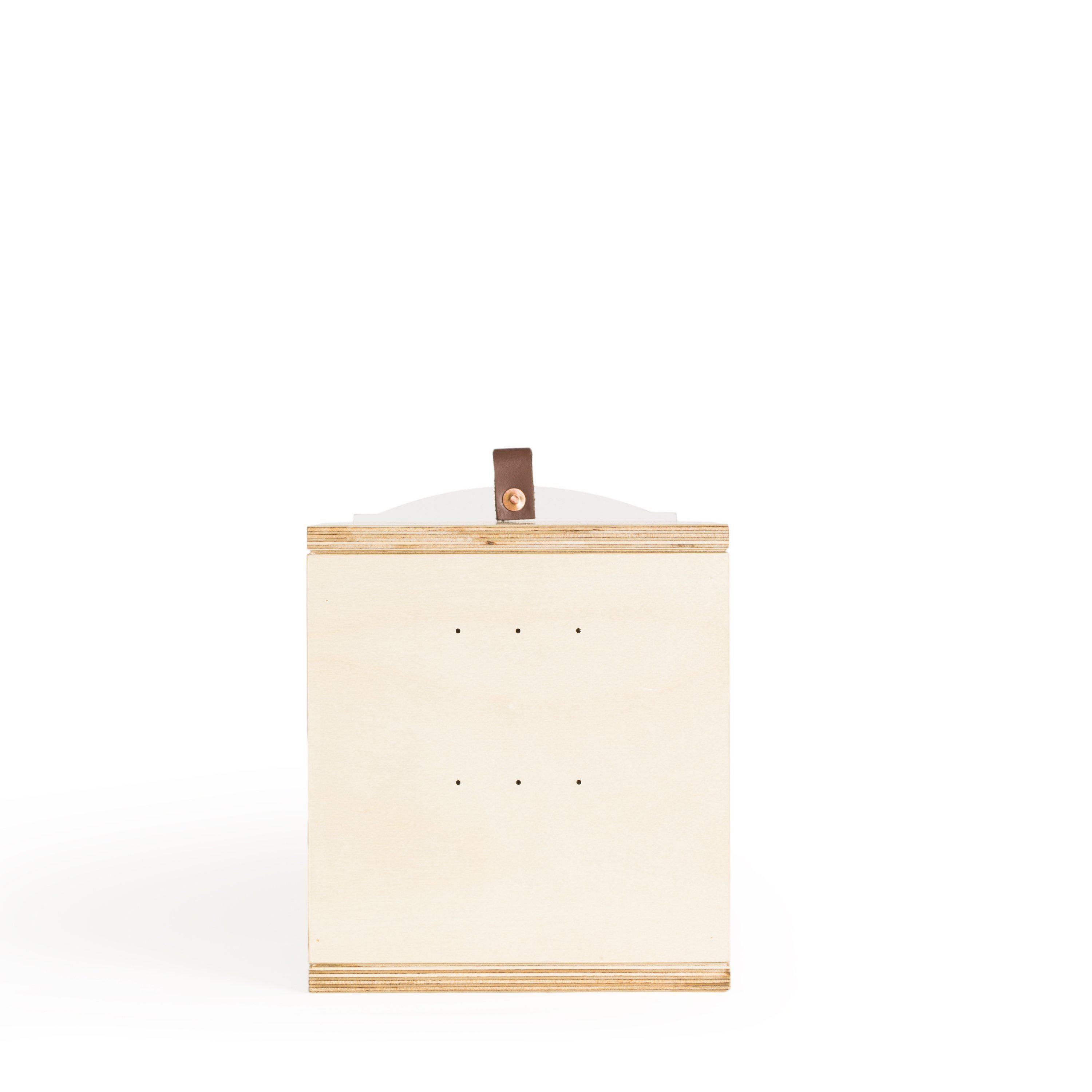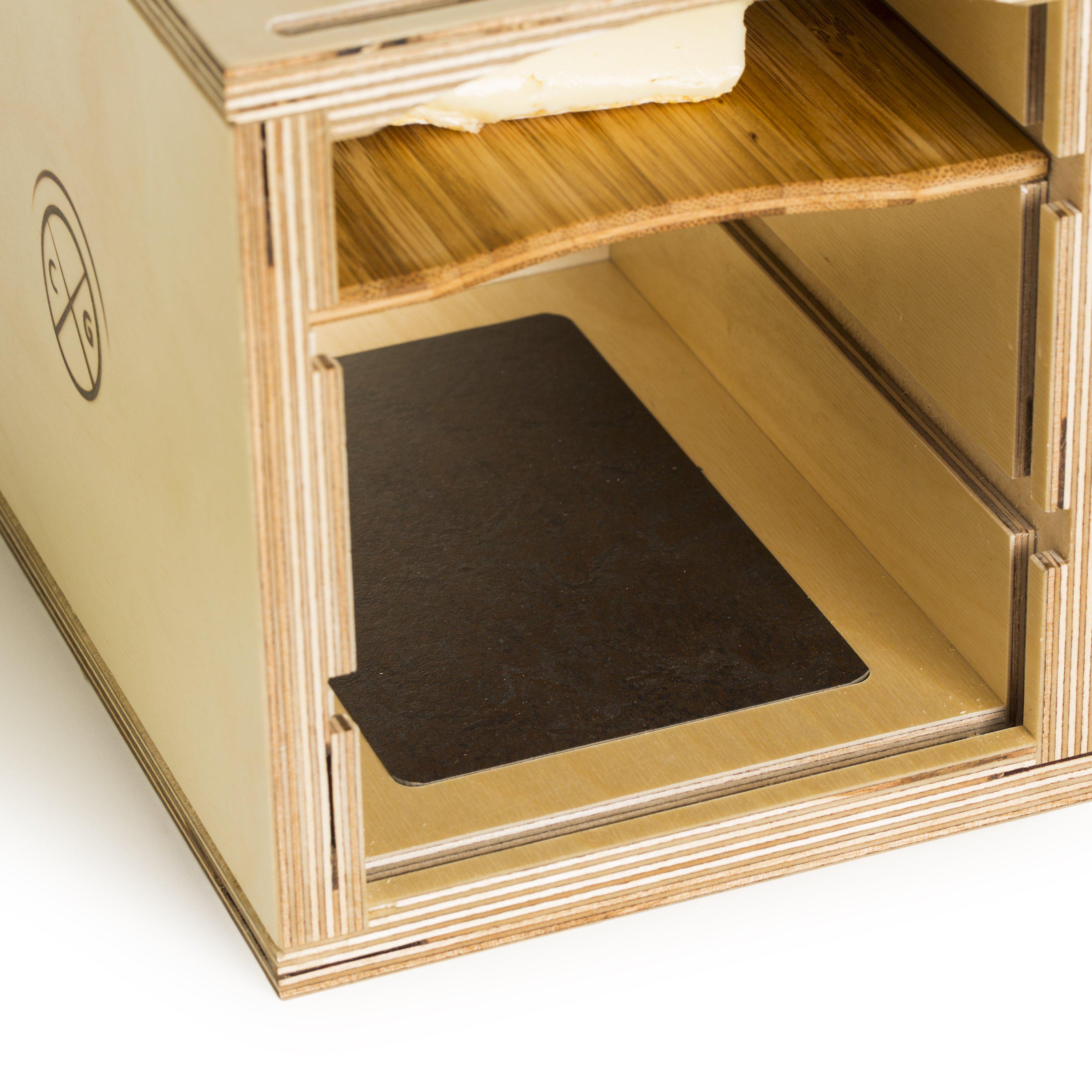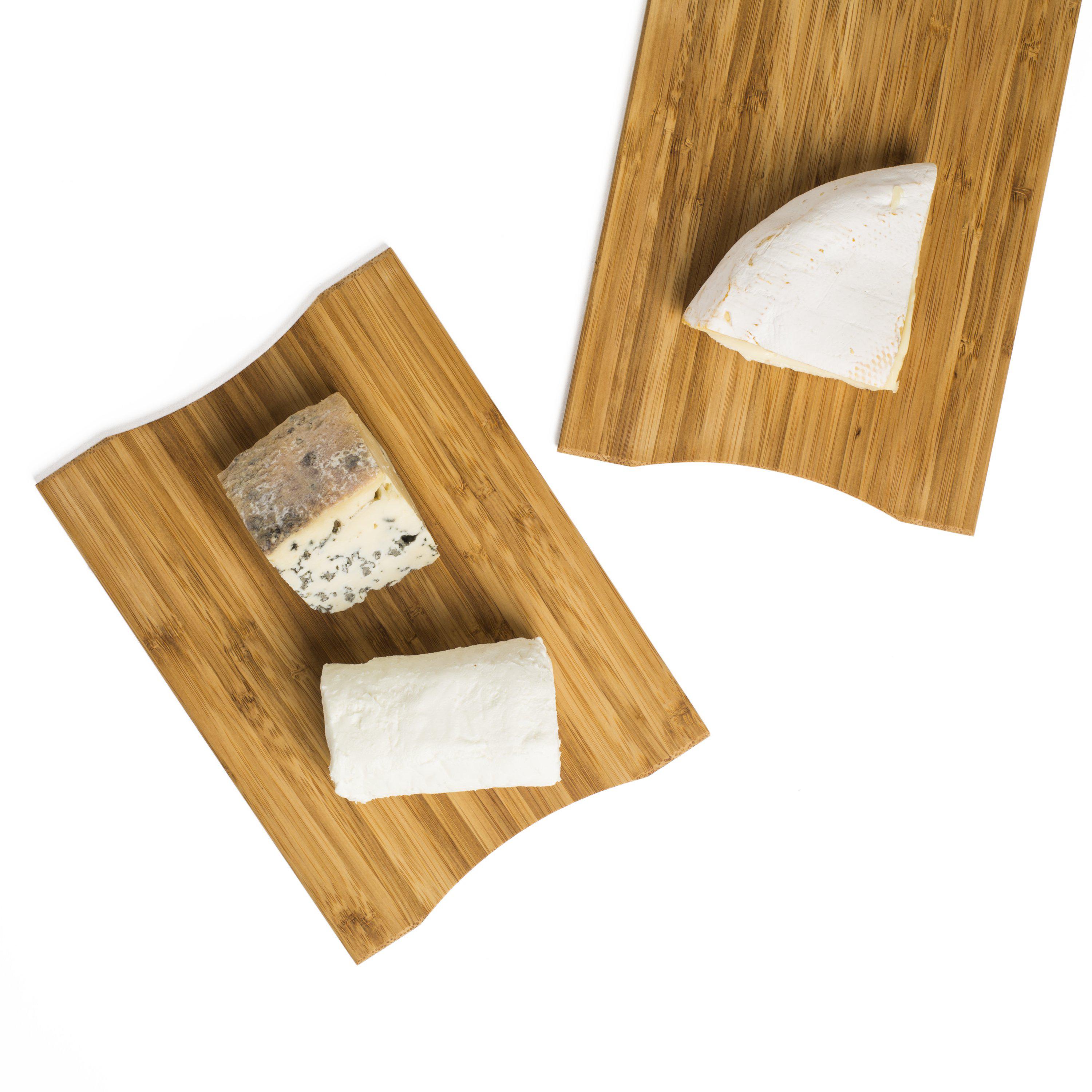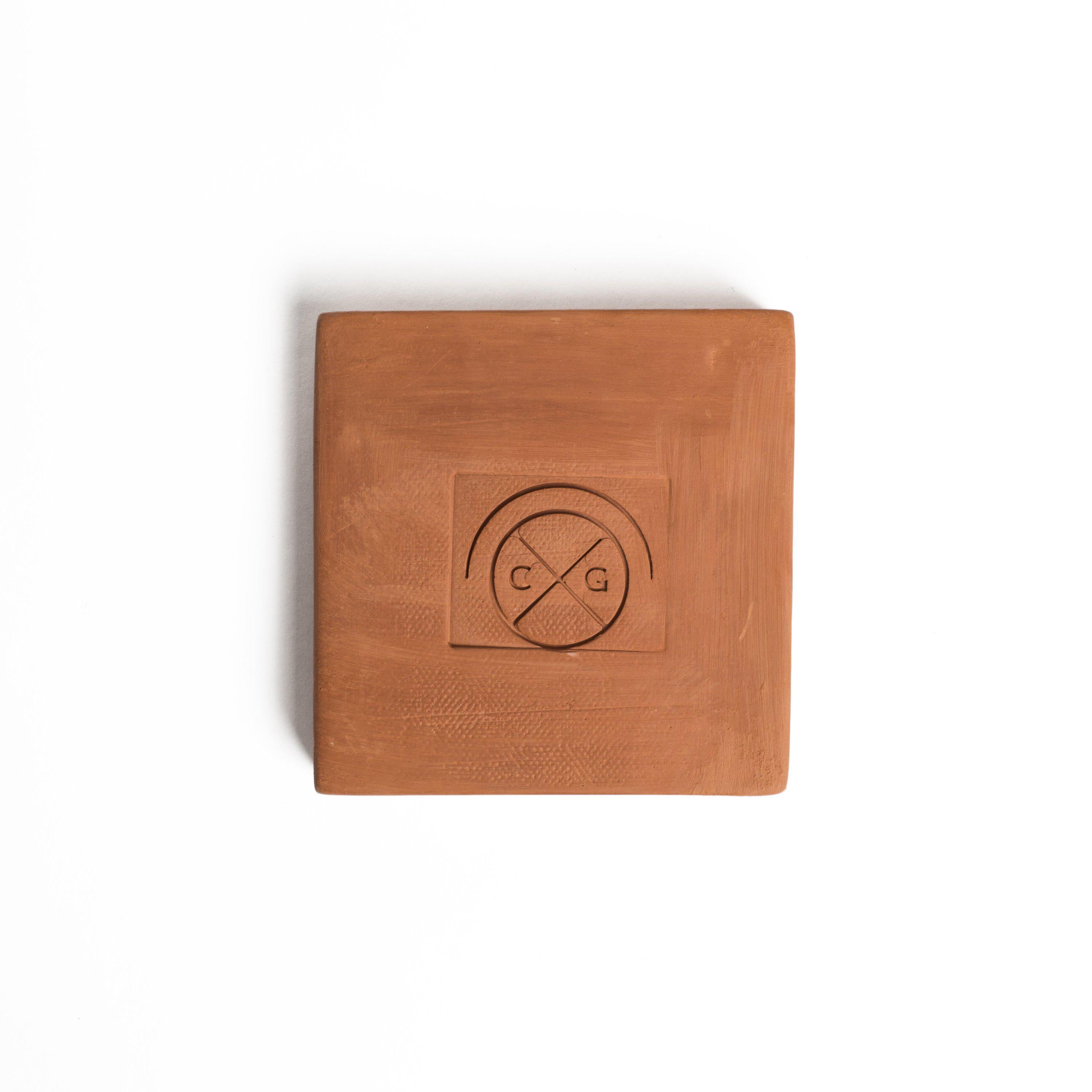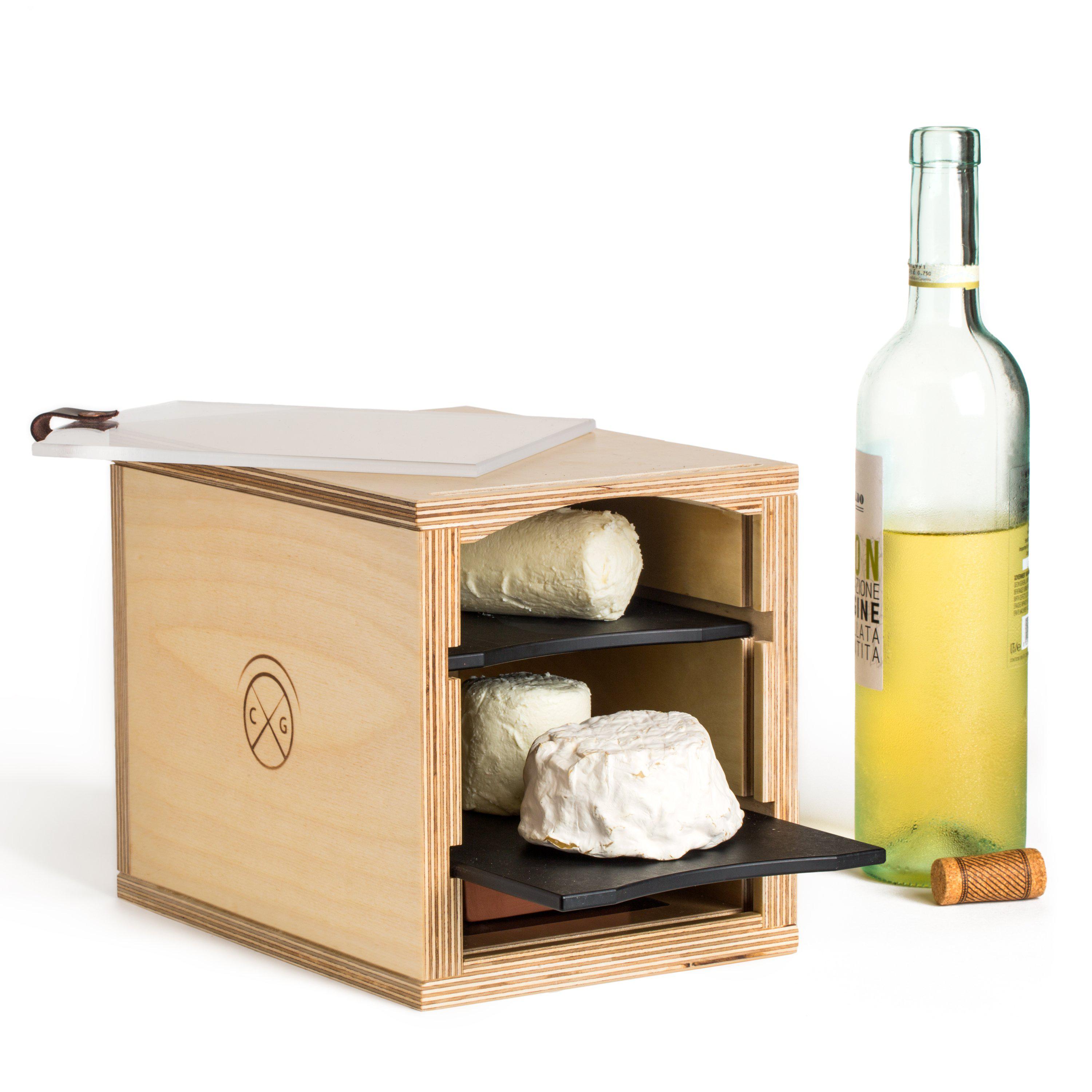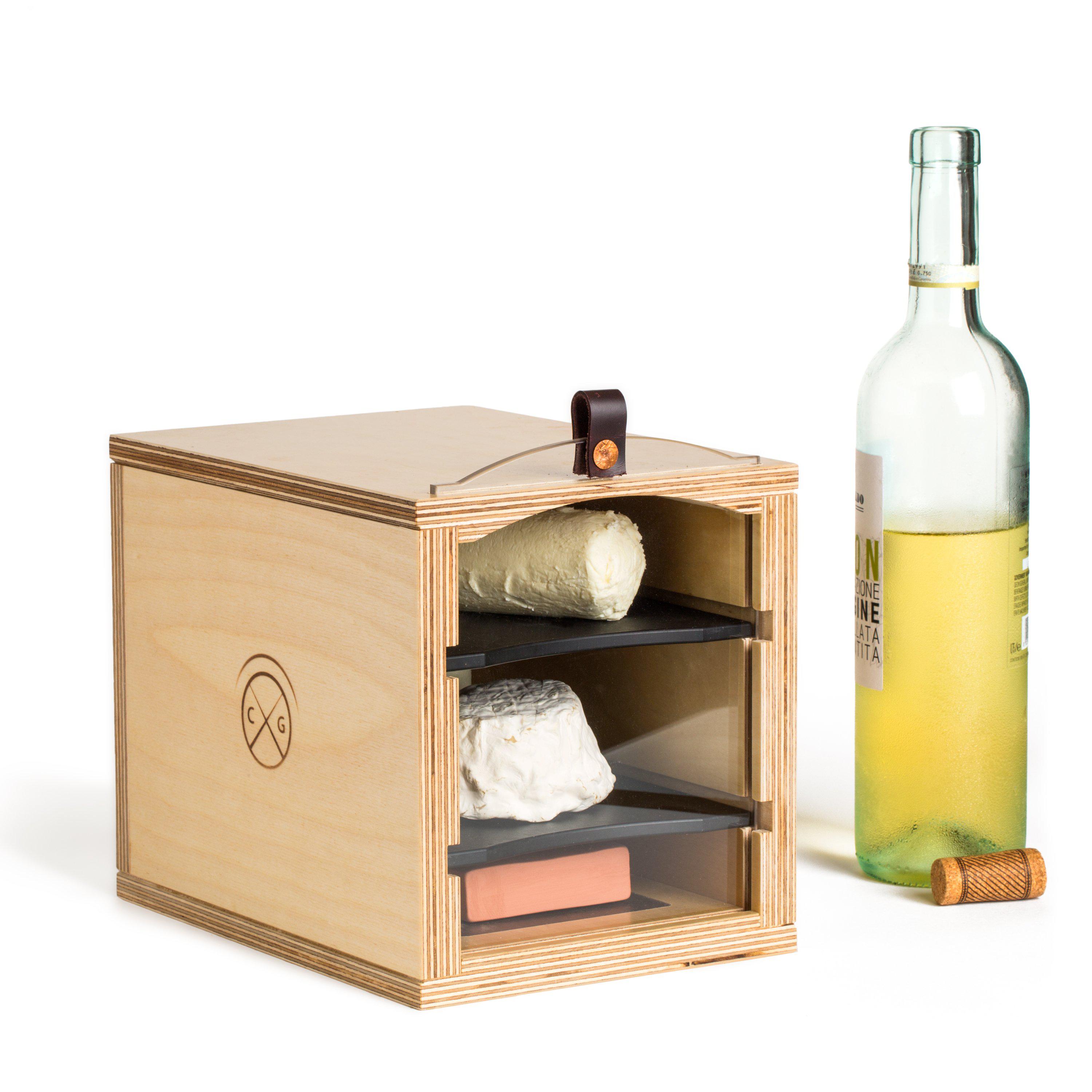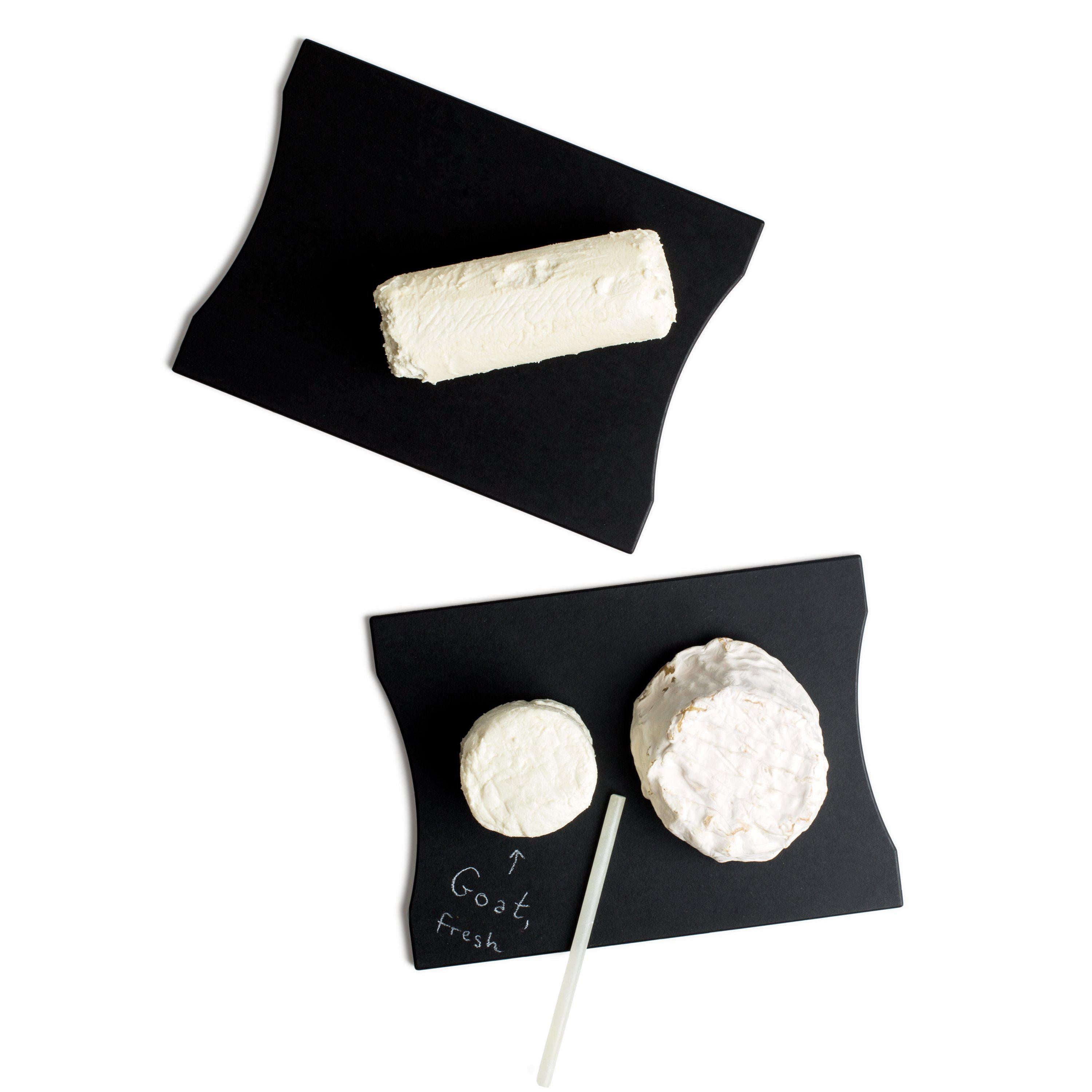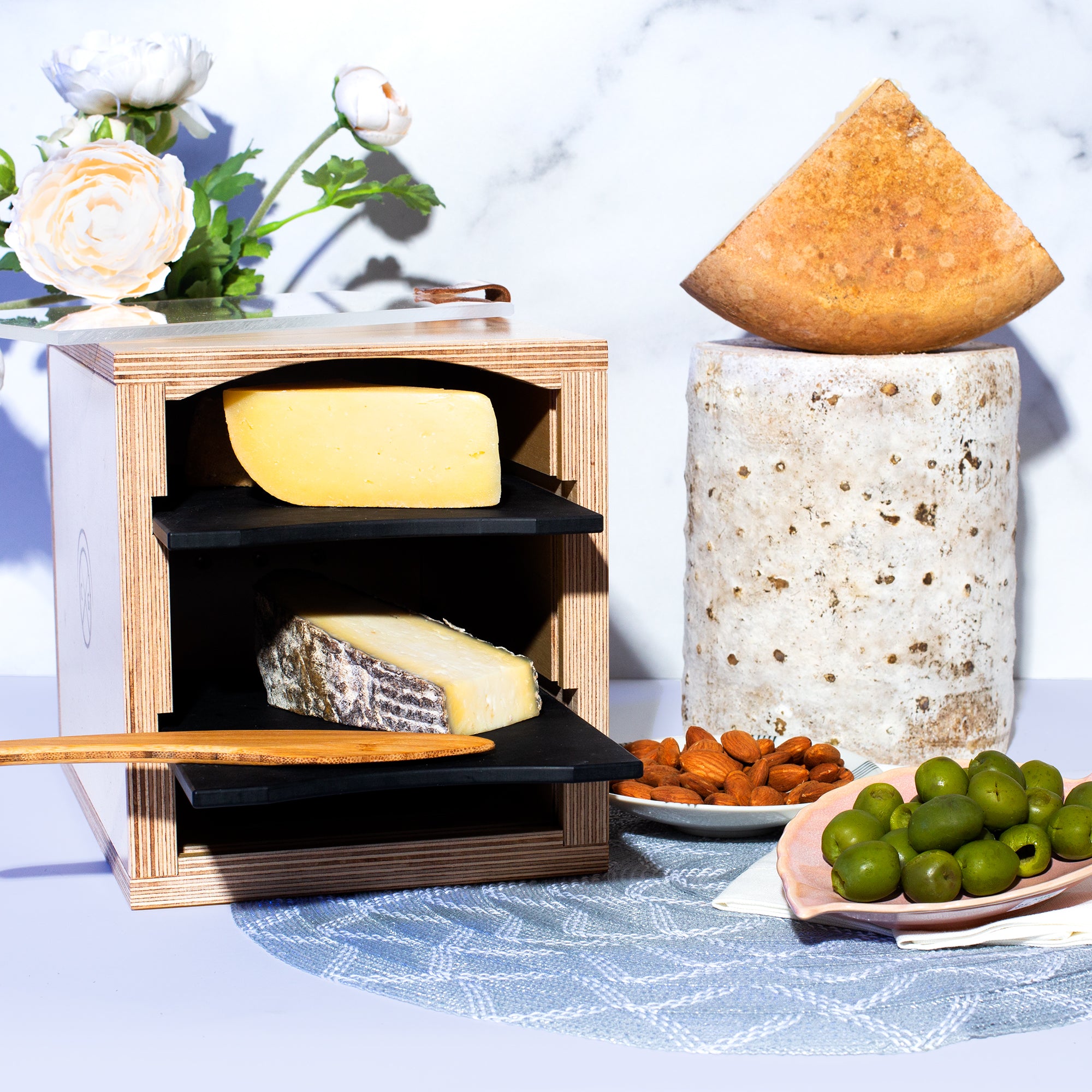 FOR THE METROPOLITAN CHEESE LOVER.
The Grotto Fresco has a smaller footprint than the Classico, making it the perfect size for the metropolitan cheese lover with a smaller refrigerator who loves entertaining on the weekends. Shelving heights accommodate just about any cheese.
Detailed Description
• Smaller footprint than the Cheese Grotto Classico
• Choice between two removable shelves (Original Bamboo or Black Resin with writable soapstone chalk)
• 1 handcrafted clay brick for humidity control
• Vaulted ceiling for condensation control
• Holds 3 to 4 pounds of cheese
• Anti-microbial floor
• Bamboo material and birch do not warp
• Finished birch is stain resistant
• Genuine leather tab with copper mount
• Plexi-glass paneling for easy viewing
• Sliding door is easy to open and close in the refrigerator
• Made in the USA (New York)
• Handwash only

Birchwood has been traditionally used in cheese preservation for hundreds of years. Its bark has been wrapped as a belt around soft cheeses for even ripening and added woodsy flavor, and has been made into barrels for the aging of Greek Feta. It's also been used during the smoking of Idiazabal cheese. Most importantly, birch has been used as shelves for aging in caves. Its tight surface is slower to absorb and release moisture, making it excellent for long-term storage. The finished birch featured in this model is sustainably made, and non-toxic. The finish on the birch makes it mold and stain resistant, both in the interior and exterior.

The Grotto Fresco has a smaller footprint of 7 inches by 9 inches with a height of 8 inches, making it the perfect size for the metropolitan cheese lover with a smaller refrigerator who loves entertaining on the weekends. Shelving heights accommodate just about any cheese.

It features a bio-based, non-toxic, anti-microbial floor made of linseed oil which helps naturally regulate any mold growth and the genuine leather tab makes for an easy grip on the sliding door.

The back panel is breathable, making for a perfect climate for simple, long-term storage of wedges and small wheels of cheese in the refrigerator. For more advanced preservation for the true connoisseur, check out the Grotto Classico.
Shipping Info
Each Grotto is handcrafted in the USA. We take pride in the detail and quality of our products. Please select the desired ship date for your Grotto. Grottos are shipped via FedEx, UPS, and USPS and shipping times are typically 5-7 business days after the ship date.
Dimensions
• 9 inches deep, 7 inches wide, 8 inches tall
• 5 pounds
• Materials designed for durability
Use & Care
• For long term storage of cheese, it is recommended to keep the Cheese Grotto at refrigeration temperatures (34ºF to 39º F, preferably 39ºF)
• Hand wash shelves with extremely hot water and a splash of distilled white vinegar
Allow the Grotto shelves to air dry between uses
• For maintenance of the Plyboo shelves, a monthly application of mineral oil is recommended
Disclaimer
Wood has the potential to harbor bacteria and pathogens if not cleaned properly and regularly.

Though Cheese Grotto's Jessica Sennett is an expert at bringing out cheese's best flavors, she is not an expert in food safety and she does not offer any opinion about food safety. New York Department of Health regulations requires restaurants to store cheese at a temperature below 45 degrees F, except for up to two hours during preparation for food service. Nothing in Cheese Grotto's materials, including statements regarding the shelf life of cheese, is intended to (and the materials should not be interpreted to) conflict with food safety regulations and recommendations.
Downloadable Gift Card
Grotto won't make it in time?
Don't worry! Our downloadable Grotto gift card is perfect for printing and placing under tree, or sending via email. We're sure the Grotto is worth the wait!
The Cheese Grotto is fantastic - it keeps my blocks of cheese fresher for longer periods of time, unwrapped in all their glory.
It really does extend the life of cheese over time. Aside from the functionality, the Cheese Grotto looks great and is easy to maintain.
The Cheese Grotto is a must have for anyone who loves cheese. Looks stunning and keeps all of your cheeses in perfect condition.
Good Subscription Agency