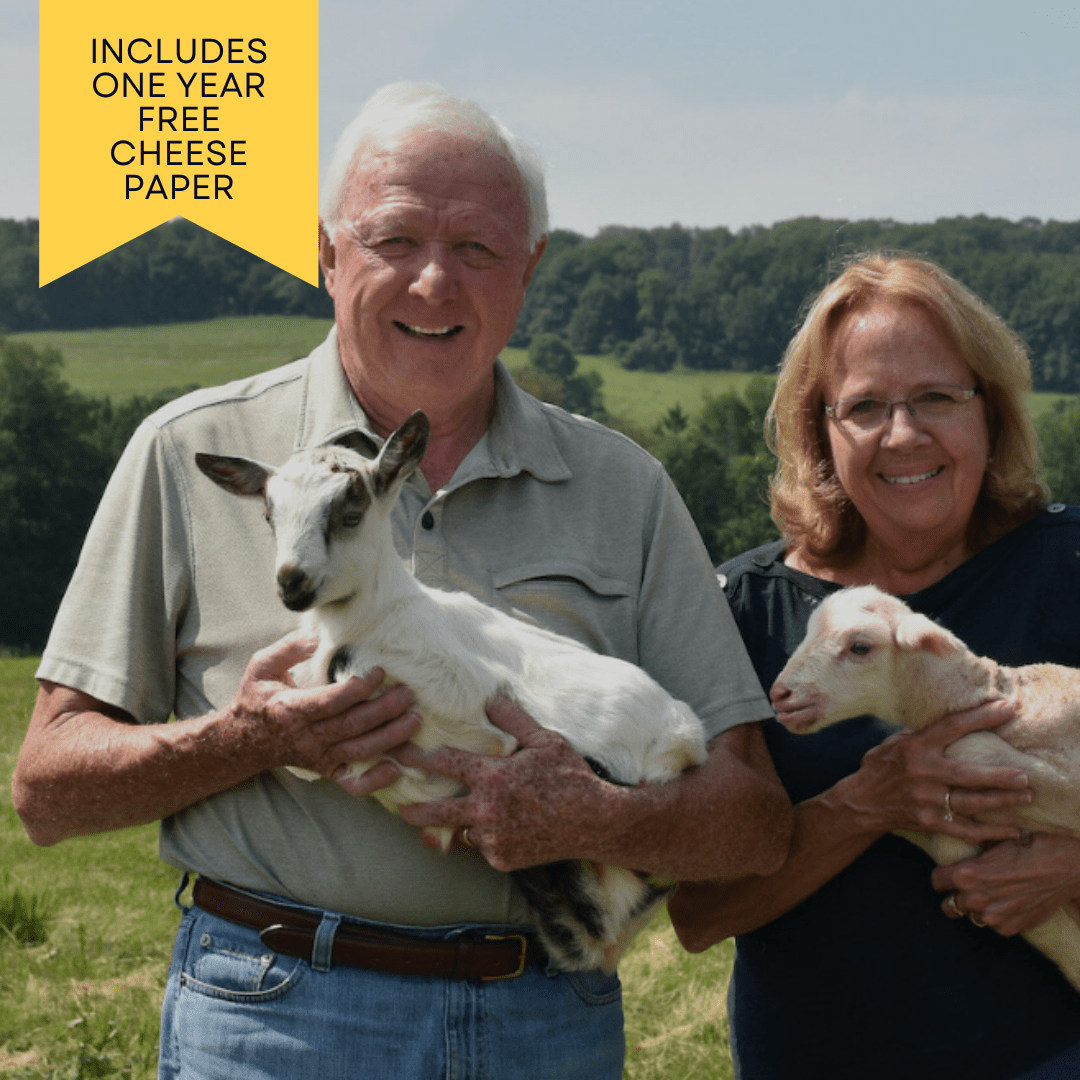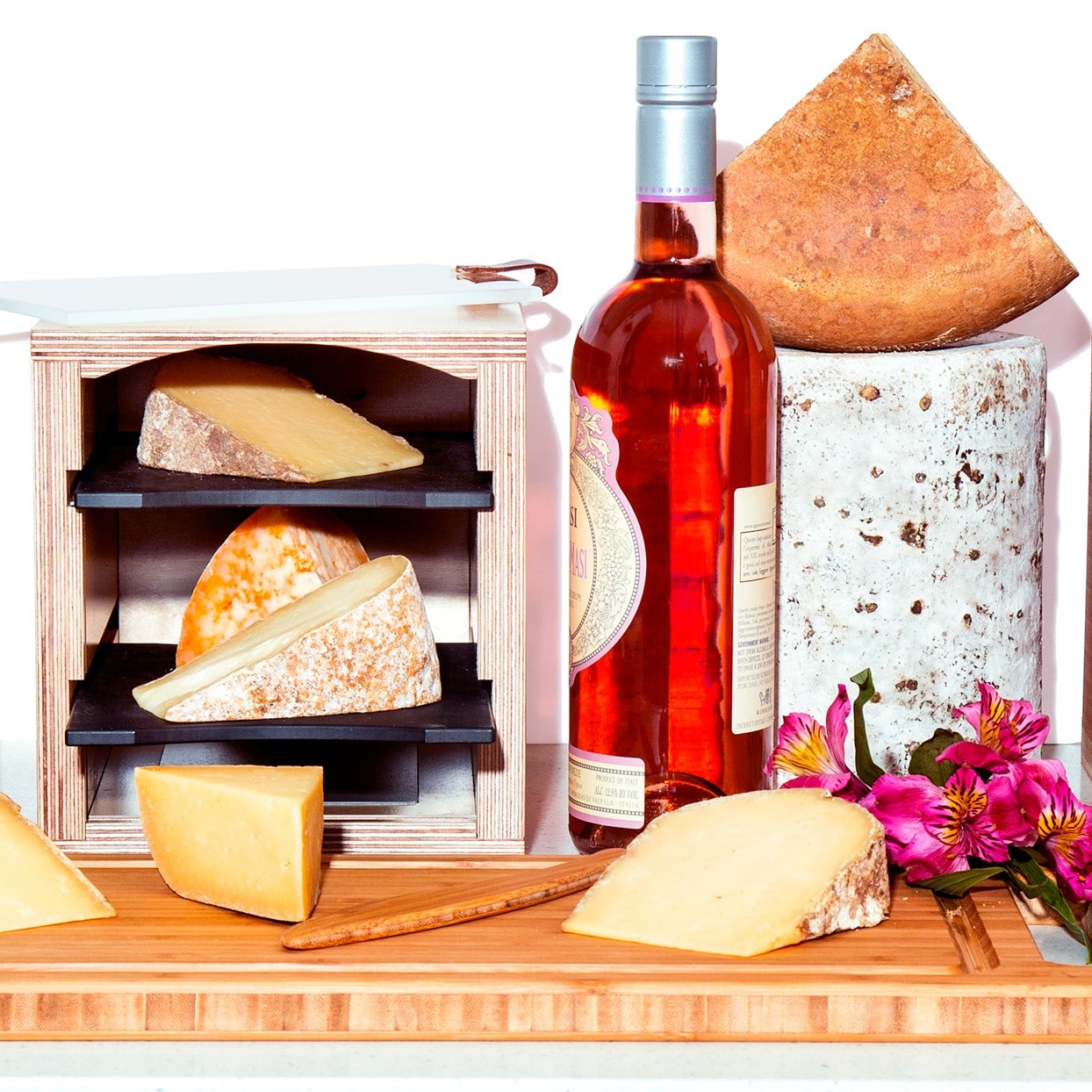 One Year of Cheese: Meet The Makers Quarterly Cheese Subscription
$262.00
SAVE 10% OFF SHIPPING
Regular price
$276.00
off
4.8 Stars out of 84 reviews
Prepay and save! Dive deep into American artisan cheesemaking 4 times per year with this unique and experiential subscription for the cheese connoisseur. In addition to receiving 4 luscious cheeses each quarter, you'll get to meet the maker on Zoom and get behind-the-scenes info and insight on their delicious craft.
One Year of Cheese: Meet The Makers Quarterly Cheese Subscription
$262.00
Regular price
$276.00
Long Description
We've curated a quarterly cheese subscription to delight you all year long with unique and fascinating American artisan cheeses. Each quarter, we'll highlight a different cheesemaker, complete with digital literature on tasting, serving, pairing, and storing your cheeses. You'll also receive a Zoom link with each shipment inviting you to a subscriber-only Meet the Cheesemaker event. It's our mission is to educate while curating delicious cheeses that can last for weeks in your Grotto. You'll always have the perfect selections on hand to share and enjoy with good company.

The quarterly cheese selection fits best in a Grotto Classico or Grotto Fresco.
Cheese Styles Included
• Bloomy rind, Washed rind, Natural rind, Waxed rind, Blue, Smoked, Herbed, Spiced, Cow cheese, Sheep cheese, Goat cheese
• The subscription includes two to four cheeses (approximately 2 pounds total) per shipment. The cheeses shipped are selected at optimal ripeness and best enjoyed within 2 to 3 weeks of delivery.
• One serving of cheese is anywhere from 2 to 4 ounces, depending on your appetite. This package is great for 8 to 16 servings over weeks of enjoyment.
• With each quarterly shipment, you will receive digital literature with information on the cheeses as well as an email invite to a live Zoom session with the cheesemaker. A recording will be emailed if you are not able to attend the live event.
July's Cheese Box
Appalachian
World Cheese Award Winner
Meadow Creek Dairy's signature cheese, Appalachian is a true expression of the cheesemaker's terroir.  Appalachian is a lush, vibrant cheese evocative of cream and butter with a mushroom earthiness that recalls the intensity of the cellars.
Galax
Their newest experiment
This cheese is a semi-soft washed curd style inspired by Gouda recipes, but with a natural rind. It is their newest experiment!
Grayson
With its renowned reddish-orange rind and golden paste, Grayson is the classic example of a washed rind cheese. The texture is supple and fudgy, becoming silky as it warms; the rich, beefy paste is slightly sweet, with grassy, nutty notes and a solid earthy undertone.
Mountaineer
Mountaineer is a dense, complex cheese aged in the European style that reflects their own mountainous terroir. Aged in their cellars a minimum of six months, Mountaineer has a smooth supple texture that dissolves on the tongue. The complex flavor starts off buttery before deepening to a roasted nuttiness, mellowing into a rich, beefy finish with a touch of caramel.
Order By Thursday, July 6th, 2023
Live Zoom session date and time TBD
Your July cheese kit will ship July 10th, and we'll email you an invitation to Meet the Cheesemaker live on Zoom. A recording will be emailed for those who cannot attend.
Meet the Cheesemaker
Photo courtesy of Meadow Creek Dairy of Ana Arguello, Kat Feete, and Helen Feete (from left to right)
Located in Virginia's Galax mountains, Meadow Creek Dairy was originally founded in 1988 as a dairy farm by husband-and-wife team Rick and Helen Feete.

After a few years of selling their high quality, sustainably produced milk, they realized the commercial market would never be able to reward them for the cost of producing it, so in 1998 Helen started making cheeses inspired by the Alps region.  The terroir of Galax and the Appalachians has striking similarities to the Alps, making it a wonderful place to produce comparable specialty cheeses while maintaining the biodiversity of the grassland through rotational grazing.

Today, Helen and Ana Arguello are the main cheesemakers, while the Feete's daughter, Kat, operates the business.

Meadow Creek Dairy has established itself as one of the most recognized and respected cheesemakers in the country with their herd of 120 cows. Their Galax cheese is their newest experiment of a washed curd, natural rind style with notes of lemon, butter, meat, and toasty walnuts.
Meet them on Zoom, date TBD. Zoom invitation will be emailed post-purchase of the cheese kit, and a recording will be emailed if you cannot attend!
How the Subscription Works
• The beauty of a cheese subscription is that it never sells out! We highly recommend purchasing your subscription by the Thursday prior to the week you'd like to receive your first shipment.
• After signup, you or the recipient can email us at info@cheesegrotto.com for assistance modifying your delivery week, and we'll respond within 3 business days.
• You will be billed once for the total subscription package. At the end of the pre-paid period of one year, you will receive an email asking if you would like to extend your subscription.
• The quarterly subscription will be processed on a fixed schedule, on the Thursday prior to the week of shipping your order. 
• This is a one-time purchase that will automatically renew after the prepaid period. You will be notified via email and will have the opportunity to cancel before the autorenew happens.
Shipping
• Your shipping charge is based on your zip code location.
• Our Meet the Maker subscription ships on a fixed schedule.  This allows everyone to meet the cheesemaker at the same time while enjoying their cheeses!
1. July 10th, 2023
2. November 13th, 2023
3. December 11th, 2023
4. March 11th, 2024
• Please visit our shipping policy page for additional questions.
Allergies
Please fill in your allergies so we can be sure to sub a cheese if needed.
Downloadable Gift Card
Need a gift card you can email or print?
We got you! Download this gift card and share with the lucky gift recipient! The size of the card is 5.5 inches by 4.5 inches so it can be formatted on a full-sized printer paper, or can be formatted to print double-sided!
What Is Artisan Cheese?
According to the American Cheese Society, "artisan or artisanal implies that a cheese is produced primarily by hand, in small batches, with particular attention paid to the tradition of the cheesemaker's art, and thus using as little mechanization as possible in the production of the cheese."

Over the past decade, the American artisan cheese community has been recognized internationally for its quality and integrity. Small to medium-scale artisan cheesemakers have a core set of values: High-quality milk makes incredible cheese, and high-quality land and animal management makes for incredible milk. In our industrial food system, committing to these core values requires long hours of hard work and strict attention to detail.

Our quarterly subscription directly supports American artisan cheesemakers and the strengthening and diversification of our food system.
The Cheese Grotto is fantastic - it keeps my blocks of cheese fresher for longer periods of time, unwrapped in all their glory.
It really does extend the life of cheese over time. Aside from the functionality, the Cheese Grotto looks great and is easy to maintain.
The Cheese Grotto is a must have for anyone who loves cheese. Looks stunning and keeps all of your cheeses in perfect condition.