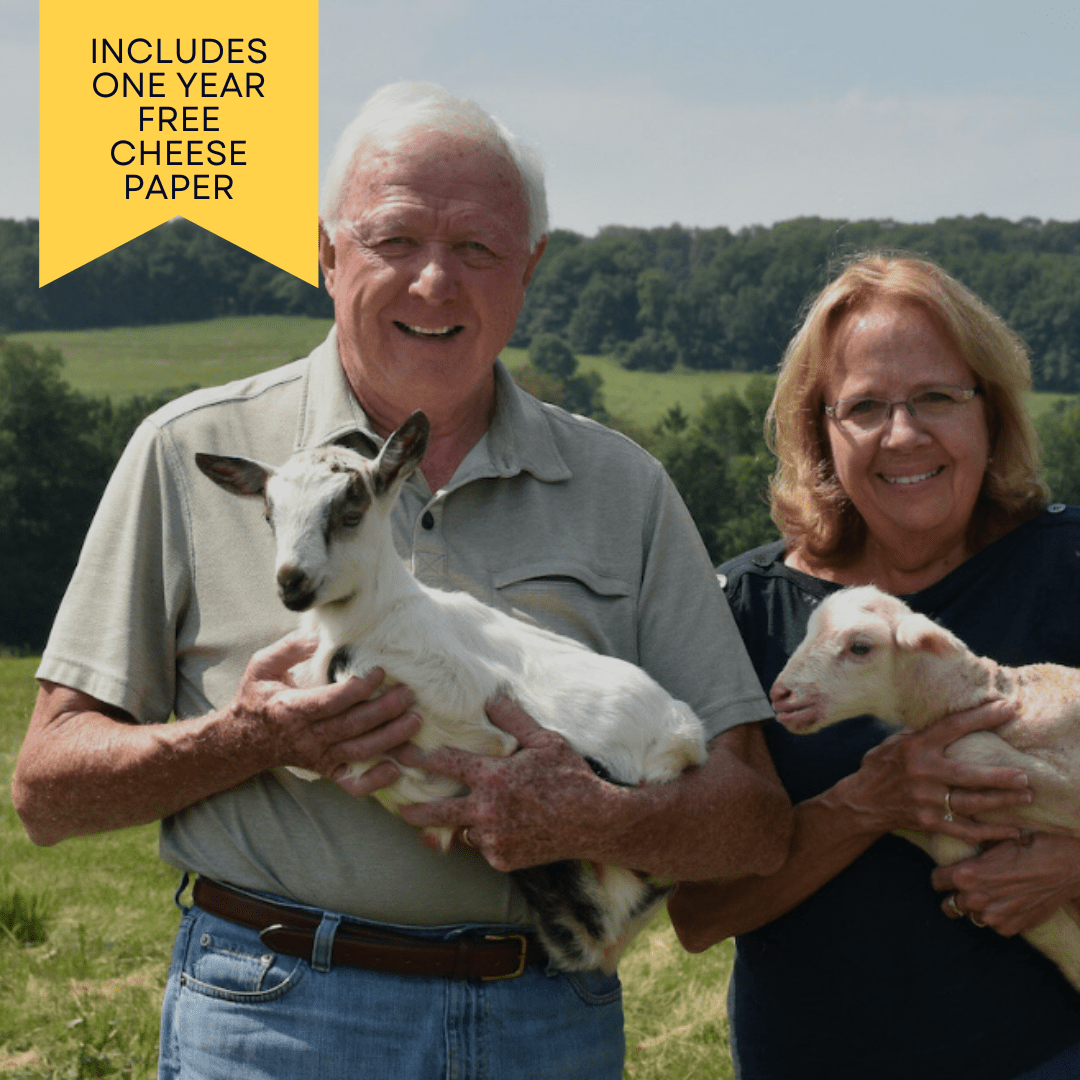 One Year of Cheese: Meet The Makers Quarterly Cheese Subscription
$262.00
SAVE 10% OFF SHIPPING
Regular price
$276.00
off
4.8 Stars out of 84 reviews
Prepay and save! Dive deep into American artisan cheesemaking 4 times per year with this unique and experiential subscription for the cheese connoisseur. In addition to receiving 4 luscious cheeses each quarter, you'll get to meet the maker on Zoom and get behind-the-scenes info and insight on their delicious craft.
One Year of Cheese: Meet The Makers Quarterly Cheese Subscription
$262.00
Regular price
$276.00
Long Description
We've curated a quarterly cheese subscription to delight you all year long with unique and fascinating American artisan cheeses. Each quarter, we'll highlight a different cheesemaker, complete with digital literature on tasting, serving, pairing, and storing your cheeses. You'll also receive a Zoom link with each shipment inviting you to a subscriber-only Meet the Cheesemaker event. It's our mission is to educate while curating delicious cheeses that can last for weeks in your Grotto. You'll always have the perfect selections on hand to share and enjoy with good company.

The quarterly cheese selection fits best in a Grotto Classico or Grotto Fresco.
Cheese Styles Included
• Bloomy rind, Washed rind, Natural rind, Waxed rind, Blue, Smoked, Herbed, Spiced, Cow cheese, Sheep cheese, Goat cheese
• The subscription includes two to four cheeses (approximately 1.5 to 2 pounds total, depending on the price of the cheese featured) per shipment. The cheeses shipped are selected at optimal ripeness and best enjoyed within 2 to 3 weeks of delivery.
• One serving of cheese is anywhere from 2 to 4 ounces, depending on your appetite. This package is great for 8 to 16 servings over weeks of enjoyment.
• With each quarterly shipment, you will receive digital literature with information on the cheeses as well as an email invite to a live Zoom session with the cheesemaker. A recording will be emailed if you are not able to attend the live event.
A Peek into Upcoming Cheesemaker Shipments
December 11th Shipment: Sequatchie Cove Creamery
American Cheese Society Winner
Nestled in a cove on the floor of the picturesque Sequatchie Valley, Sequatchie Cove Creamery produces farmstead cheese using time-honored European traditions with a distinctly Southern flair. Their cheeses are made using the raw milk from cows who spend every waking moment on grass, letting the expression of the land shine through in its flavors. Fresh forage, sunlight, Tennessee mountain air, a good bit of science, and a dash of artistry are the tools they rely on daily.
March 11th, 2024: Grey Barn Farm
Grey Barn Farm is a small, diversified New England family farm based in Martha's Vineyard. Their cheeses are critically acclaimed and exceptionally unique.
July 11th, 2024: Carr Valley Cheese
Owned and operated by the Cook family, Carr Valley Cheese Company is over one-hundred years old. Nestled amongst the rolling hills and lush pastures of central Wisconsin, they remain one of Wisconsin's traditional cheese plants, famous for making cheese the old-fashioned way!
Carr Valley Cheese has won numerous awards over the years and continues to offer delicious and unique Wisconsin Cheeses.
November 18th, 2024: Point Reyes Farmstead Cheese
When Point Reyes Farmstead Cheese Company was founded in 2000, they already had the most important part. Their dairy farm has always been known for making the freshest, highest quality milk. Their family's herd of Holsteins were all raised from birth right on the property, giving them complete quality control from start to finish. Their first creamery was, and still is, right next to the milking parlor. In 2018, to fulfill the increasing demand for our award-winning products, they proudly opened a second production facility in the nearby town of Petaluma.
Today Original Blue, their raw milk cheese, continues to be made on the farm in Point Reyes, exclusively from the milk of our own Holsteins. Their pasteurized cheeses, Toma, Bay Blue, Gouda and Quinta, are handcrafted in Petaluma, where they source milk from CA dairies who share in their sustainable farming philosophies and match their highest standards for milk quality.
December's Cheese Box
Walden, 7oz
Long ago, cheesemaker Nathan Arnold of Sequatchie Cove Creamery learned the secrets of the Reblochon style in France, and brought his Savoie training home to Tennessee. A new style was born, and became the famous Dancing Fern (6x ACS Winner, Good Food Awards Winner). But that journey led to a new perfectly sized variation on a classic well-balanced wheel. We named it after Walden Ridge, a place where you can get a thrilling view of the Tennessee river winding far below. 
The name Walden might best be known from Thoreau's quest for self-knowledge and simplicity on Walden Pond. Maybe that fits because this cheese is laid back and all set for a picnic. Follow the breeze to a ledge, and you can watch the silky clouds billow over all the nooks and coves of the Valley. Around here, just spreading the right cheese on a baguette might take you to some faraway place where everything makes total sense for a minute.
Coppinger, 8oz
Back in the day, and we mean the middle ages, cheesemakers first started using ash in their recipes. They had their reasons, and so does Sequatchie Cove Creamery. Ever since people first began to combine food and fire, they've used ashes to preserve and purify things. Sometimes it's called vegetable ash or activated charcoal. Some say it's vegan fairy dust. This cheese works in the tradition of ash-lined styles like Morbier, but it comes from Coppinger Cove.
The ash line doesn't change the way Coppinger tastes, but it does give it some extra style. It reminds the cheesemakers of the Little Sequatchie River running through the valley, dotted with rapids and swimming holes all the way past the Creamery. That's where they'll be, sprinkling a fine layer of bling between the two halves of this prize curd while it's still in the mold. It just means Coppinger was born looking good.
Ebenezer, 8oz (1/2 wheel)
Ebenezer is Sequatchie Cove Creamery's special holiday release that is only available during the holidays. A supple washed-rind wheel hand-wrapped in spruce bark to hold its shape, the flavors range from pine, to bacon, to egg custard.
Shakerag Blue, 8oz
They say the ancient Greeks wrapped their favorite foods in flavorful leaves to preserve them and to make them even more delicious. This cheese comes from a leafy place, so when Sequatchie Cover Creamery had this idea, their friends and family raided their gardens and yards for the choicest fig leaves and brought them to their stand at the farmer's market. That's when Shakerag really came to life. 
From there, adding Tennessee liquor seemed natural. That's why this cheese takes its name from Shakerag Hollow, a place known for moonshining mischief and a bonanza of spring wildflowers. Shakerag is complicated and over-the-top in all the best ways. Basically, this cheese is down to party. They steep those luscious fig leaves in Chattanooga Whiskey, and hand-wrap each wheel of Shakerag Blue. That's probably why it seems so confident.
Order By Thursday, December 7th, 2023
Live Zoom session will take place on Thursday, December 14th at 6pmEST
Your December cheese kit will ship December 11th, and we'll email you an invitation to Meet the Cheesemaker live on Zoom. A recording will be emailed for those who cannot attend.
Meet the December Cheesemaker
Photo courtesy of Sequatchie Cove Creamery
Once upon a time, an artist and a horticulturalist fell in love and started making cheese in the place with the most caves on the continent. Since 2010 Nathan and Padgett Arnold have used time-tested methods to conjure the terroir of the Sequatchie Valley, collaborating with cute cows and the living landscape to make cheeses worth sharing. 
On their journey of discovery, they've developed expressive cheese styles inspired by the Sequatchie Valley and the Cumberland Plateau. It all started with a few Devonshire cows and a lot of courage. Through more than a decade of trial and error, the evolving farmstead herd taught them the secrets of a unique land. This holistic approach to growing plants and raising cows turned sun, grass and milk into delicious cheeses that have been ACS award winners 7 times and counting.
That deep foundation led the Creamery to embrace milk sources from around this bountiful region, and each variety is of course named in honor of the place that still makes it all possible.
Meet Padgett Arnold on Zoom on Thursday, December 14th at 6pmEST! An email recording will be sent for those who cannot attend!
How the Subscription Works
• The beauty of a cheese subscription is that it never sells out! We highly recommend purchasing your subscription by the Thursday prior to the week you'd like to receive your first shipment.
• After signup, you or the recipient can email us at info@cheesegrotto.com for assistance modifying your delivery week, and we'll respond within 3 business days.
• You will be billed once for the total subscription package. At the end of the pre-paid period of one year, you will receive an email asking if you would like to extend your subscription.
• The quarterly subscription will be processed on a fixed schedule, on the Thursday prior to the week of shipping your order. 
• This is a one-time purchase that will automatically renew after the prepaid period. You will be notified via email and will have the opportunity to cancel before the autorenew happens.
Shipping
• Your shipping charge is based on your zip code location.
• Our Meet the Maker subscription ships on a fixed schedule.  This allows everyone to meet the cheesemaker at the same time while enjoying their cheeses!
1. December 11th, 2023
2. March 11th, 2024
3. July 11th, 2024
4. November 18th, 2024
• Please visit our shipping policy page for additional questions.
Allergies
Please fill in your allergies so we can be sure to sub a cheese if needed.
Downloadable Gift Card
Need a gift card you can email or print?
We got you! Download this gift card and share with the lucky gift recipient! The size of the card is 5.5 inches by 4.5 inches so it can be formatted on a full-sized printer paper, or can be formatted to print double-sided!
What Is Artisan Cheese?
According to the American Cheese Society, "artisan or artisanal implies that a cheese is produced primarily by hand, in small batches, with particular attention paid to the tradition of the cheesemaker's art, and thus using as little mechanization as possible in the production of the cheese."

Over the past decade, the American artisan cheese community has been recognized internationally for its quality and integrity. Small to medium-scale artisan cheesemakers have a core set of values: High-quality milk makes incredible cheese, and high-quality land and animal management makes for incredible milk. In our industrial food system, committing to these core values requires long hours of hard work and strict attention to detail.

Our quarterly subscription directly supports American artisan cheesemakers and the strengthening and diversification of our food system.
The Cheese Grotto is fantastic - it keeps my blocks of cheese fresher for longer periods of time, unwrapped in all their glory.
It really does extend the life of cheese over time. Aside from the functionality, the Cheese Grotto looks great and is easy to maintain.
The Cheese Grotto is a must have for anyone who loves cheese. Looks stunning and keeps all of your cheeses in perfect condition.
Good Subscription Agency